Hi LR Team!
Please consider enabling the use of tags/optional tags through discourse. It would help organize the posts on the Forum, as some topics are hard to find information on unless you're doing a deep dive into the Forum's posts.
Here's how it might look when enabled and used in the category page of LR:

And in a given topic section:

And as a user searches: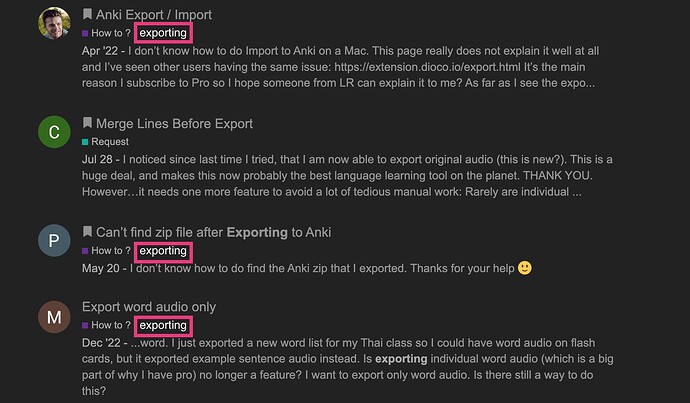 ---
Edit: When users click on a given tag, they are sent to a page with posts using the same tags in one place.
This way, users can be guided to specific results that rely on keyword matches and tagging in case other users use different wording in their topic titles or body text to describe their posts.
---
Here are some ideas for tags:
Text/Reader Tool: text-reader-tool -OR- text-tool
Chatbot Tool: chatbot
PhrasePump: phrasepump
View My "Saved Items": saved-items
TurtleTub: turtletub
Video File: video-file
Netflix Catalogue: netflix-catalogue
Youtube Catalogue: youtube-catalogue
Automatic Speech Recognition (ASR) on Netflix: asr-netflix
Chrome Extension: chrome-extension
Other Language Posts/topics: not-english -OR- other-languages
*Language Learning (not LR related, but language learning related): language-learning
PhraseMulti: phrasemulti
Pro Mode: pro-mode
Basic Mode: basic-mode -OR- free-plan
Machine Translations: machine-translation
Feature Request: feature-request
Progressive Web Application/Pseudo App/App via PhrasePump Link/Mobile App/posts with a question about an official app: app
LR Free Trial: free-trial
Translation Errors: translation-error
AI/ChatGPT/Machine Learning: ai-machine-learning
TTS: tts
Forum Request (requests for improvements related to the Forum): forum-request
LR Error Messages: error-message
LR Extension with YouTube: lr-youtube
LR Extension with Netflix: lr-netflix
Exporting Saved Items: exporting
Metacatalogue: metacatalogue -OR- meta-catalogue
Dictionaries: dictionary -OR- dictionaries
Feedback: feedback
This might be a better alternative to the Open Forum Request that I had — though I still think that would be a great addition to this Forum still.
This request here is more urgently needed to organize the categories better here and reduce repetitions in questions/aid community users in answering learner questions better, more efficiently, and more quickly.
At minimum, I'd like to recommend using these tags on the LR Forum asap:
feature-tools: For topics/posts related to LR features
user-guides: For the How-to section, user guides that would help users understand "how to…" do something using LR features: ex., [Answered] How to Contribute to Tatoeba: The Project LR Pulls Sentences From
error-messages: For the error messages related to LR features like:

Saving words: Ex.,
Failure to retrieve linguistic data: Ex., Language Reactor Error: Failed to retrieve linguistic data: NETWORK_ERROR Lang: th, tt_key: SUBS_th_1_f892d8ba8966f9cc71bb2a26f1d186ed
Save Item Error: Ex., Error message: SAVE_ITEM_SERVER_ERROR
Error updating saved items keys: Ex., Can't save words - #3 by hong_he
Network Error: Ex., Can't add new words and phrases to the Saved items. and Update! Learning Stages, Flashcards, All Words Panel, PhrasePump, API.. - #138 by Mareddy_Jayanth_Redd
Etc.

language-learning-related -OR- language-learning: For topics that relate to language learning but are not LR features, ex., something similar to Language Reactor but for Reading
P.S. I'd also be happy to help tag posts with these (or other) tags to organize posts better so that other learners can find information more easily in search.
References: