We've been working hard to being you a new feature, it's nearly ready for release. We're opening up access to subscribed users today, and hope to role it out as widely as our hardware allows to free users (still bringing up a second server). She's called Aria.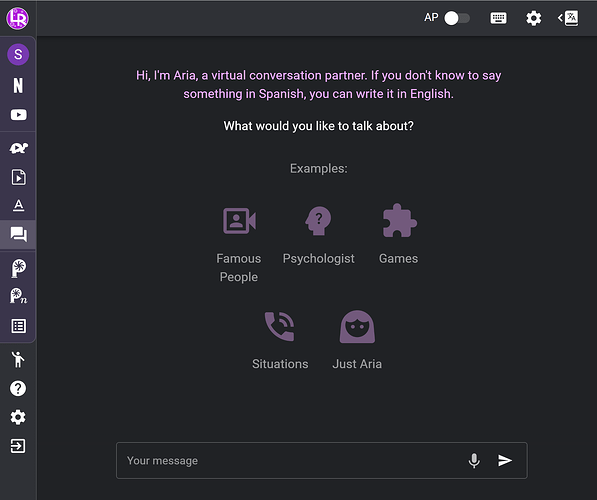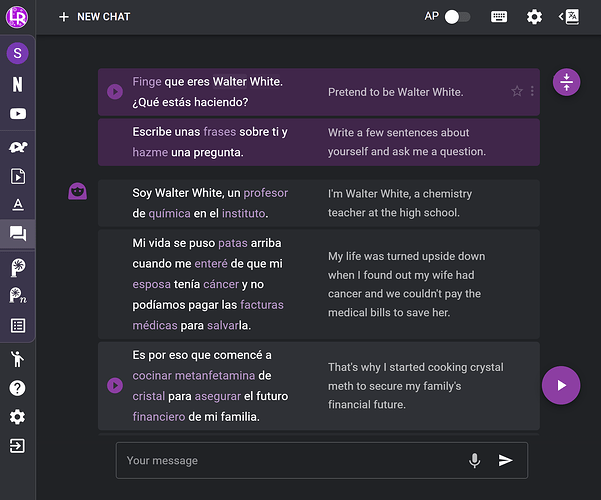 Some notes:
– Type in either the source or translation language, try it.
– You can hold the mic button for speech recognition… it's good… works in source or translation language.
– There are corrections when you say something wrong. If you find these annoying, you can turn them off in the settings in the toolbar.
– Check the keyboard shortcuts, 'TAB' to switch focus to the text box.
– Actual communication with the gpt model occurs in English, so there is a layer of translation when you are practicing a language other than English.
– If you try diligently, you might get it to generate some material that some might find innapropriate. I don't plan on dedicating a lot of energy to preventing that.
Features still to make:
– discuss a TurtleTube video with Aria.
– Good AI TTS for English at least.
– Train a custom chat model: improve Aria's performance in different activities.
– Improve example prompts.
Known bugs:
– Some text formatting issues still.
Server might go down from time to time while we are ironing out issues.
We're still trying to figure out how these language models are useful for language learning. If you got some ideas for good prompts we could include in the examples, or another idea, please write them here.