Thanks for your quick response. I'm going to think about what you have suggested.
My initial reaction:
"The current system should give you complete control over what you see in Phrasepump."
My concern is not how the sentences look in PhrasePump, but in Netflix or YouTube when I am watching a show at real speed. The extra seconds that are needed to try and discern the underlined tags are the difference between understanding and eye strain. The colored character is so much better. Just one color I could control would better.
Segmentation:
Honestly, I do not want to see any alternating underlines or additional spaces. Real Chinese books and shows don't have this kind of spacing. I know the segmentation is not perfect, but I'm not complaining. Please do not add additional spaces between the words or alternating underlines UNLESS these features are OPTIONAL and could be turned ON/OFF by the users.
Known words:
It seems you are suggesting I move a lot of words to known. I will play around in the settings, but everything I have tagged YBRG is now orange. Before I only needed to mark the color. Now I need to adjust two settings for most words.
Color: green, white, and orange
For me, the orange is still a bit much. When the words are orange, I can't see the tags.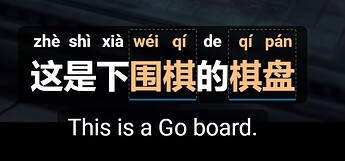 Maybe you could allow users to choose which color is learned, known, and ignored or allow users to change the intensity of the colors.

I would make KNOWN words grey, LEARNING white, and IGNORED orange. I'm assuming that most of the words I am going to see in the average tv show are known. That said, I would have to manually mark the words I really want to ignore as known. Then I could reserve the orange for special items I really want to stand out. For example:
了,在, and grammar constructions. These words wouldn't be in PhrasePump, but I would be able to clearly see them and change them at will. I hope this makes sense.
Customization and simplicity are key.
Thanks for your time.